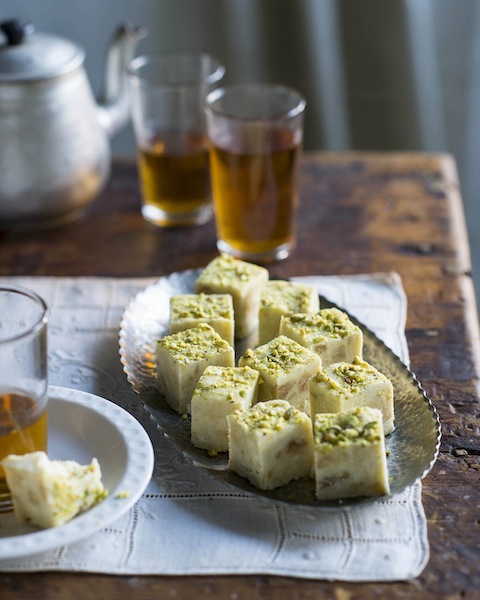 Afghani sweet scented with cardamom.
Serves 10
440 g (2 cups) sugar
500 ml (2 cups) water
440 g (4 cups) full cream milk powder
1 tablespoon ground cardamom
1 tablespoon rosewater
100 g (1 cup) walnuts, chopped
1 tablespoon pistachios, ground
1. Combine the sugar and water in a medium saucepan and place over low heat. Stir until the sugar dissolves.
2. Increase the heat to medium and boil without stirring for 12–15 minutes or until thickened but not coloured. It is ready when you drizzle a little down the side of a bowl and it almost holds without running.
3. Meanwhile, combine the milk powder, cardamom, rosewater and walnuts in a large bowl. Pour over the hot syrup and quickly mix together until well combined. Pour into a shallow dish and sprinkle the top with the ground pistachios.
4. Set aside for 1 hour to cool and set before cutting into diamonds or squares.
Recipe is from Nouria Salehi and is featured in Maeve O'Meara's revised book, Complete Food Safari, published by Hardie Grant Books ($59.95).