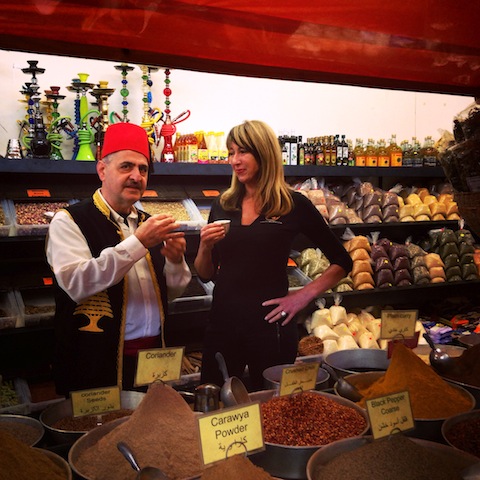 Sydney is a city of surprises. And nowhere is that more evident than when exploring its vibrant food villages on Maeve O'Meara's Gourmet Safaris' spice tours. This month, the TV host and cookbook author celebrated a milestone: it's been 16 years since O'Meara began curating tours around the city, all of which have a different flavour.
Dried figs, dates, olives, racks of herbs, nuts and spices and jars of pungent powders and pepper pastes are just some of the goodies available to those on a Gourmet gallivant.
In Marco Polo's day, we might have been pulled along by camels in a caravan. Although the Gourmet Safaris' mini van is not quite as romantic, it makes it very practical to transport a dozen food tourists all lugging bags stuffed with everything from fresh-made naan bread to aromatic spice blends and hand-crafted chai tea.
Following are a few behind-the-scenes glimpses at the stop-offs along Gourmet Safaris' modern-day spice route and from the photo shoot for my article in Good Food – in the SMH. Click here to see the article.
Carla Grossetti was a guest of Gourmet Safaris' spice-themed tour in and around Sydney suburbs. To find out more about Maeve O'Meara's culinary walking tours, banquets and bus tours, call (02) 8969 6555. Click here to view the original article in Good Food.